Migration Tears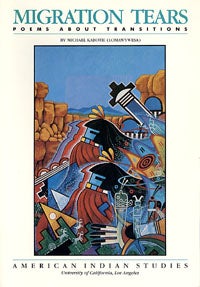 By Michael Kabotie (Lomawywesa), 1987.
Michael Kabotie or Lomawywesa, son of the artist Fred Kabotie, was born in 1942 at Shungopavi. He is of the Hopi Sinnum, Water/Snow clan, and he is a painter, lithographer, serigrapher, goldsmith and silversmith. In this book of poetry he recreates Hopi traditions for modern Indians in bold, traditional strokes.
54 pp.
$10 paper
10-digit ISBN: 0-935626-32-8
13-digit ISBN: 978-0-935626-32-2
Table of Contents (PDF)
Individual's Price: $10.00
Stock: In Stock
* These prices are for US customers only. For international orders, please contact sales@aisc.ucla.edu for additional shipping fees.
** NOTE: Prices listed are for individual buyers only. Bookstores or other resellers or representatives from bookstores or other resellers may contact the UCLA American Indian Studies Center Pubications for institutional purchases. Phone: 310-825-7315, eMail: sales@aisc.ucla.edu
Ready to Order?
You will be redirected to our online ordering system.