North American Indian Language Materials 1890-1965: An Annotated Bibliography of Monographic Works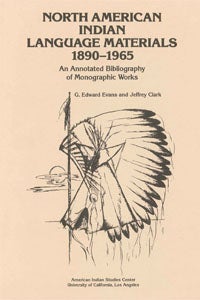 By G. Edward Evans and Jeffrey Clark, 1980.
This annotated bibliography provides a listing of Indian language sources intended to supplement James Pilling`s nine American linguistic bibliographies for the U.S. Bureau of Ethnology.
153 pp.
$5 paper
10-digit ISBN: 0-935626-15-8
13-digit ISBN: 978-0-935626-15-5
Individual's Price: $5.00
Stock: In Stock
* These prices are for US customers only. For international orders, please contact sales@aisc.ucla.edu for additional shipping fees.
** NOTE: Prices listed are for individual buyers only. Bookstores or other resellers or representatives from bookstores or other resellers may contact the UCLA American Indian Studies Center Pubications for institutional purchases. Phone: 310-825-7315, eMail: sales@aisc.ucla.edu
Ready to Order?
You will be redirected to our online ordering system.