Cedar Smoke on Abalone Mountain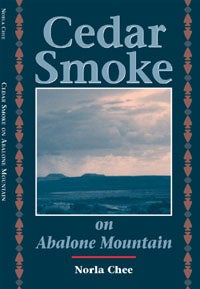 By Norla Chee, 2001.
This collection of thirty-seven poems seamlessly weaves the spiritual with the daily and the present with the past. Chee`s poetry as song and story is a mix of Navajo, which is her cultural heritage, and the "Other," as indicated by non-Navajo customs, ideas, and experiences. She utilizes this comparison to bring about a fuller and richer dimension of cultural vitality and an appreciation of different cultural legacies in vigorous relationship with each other.
49 pp.
$12 paper
10-digit ISBN: 0-935626-55-7
13-digit ISBN: 978-0-935626-55-1
Table of Contents (PDF)
Individual's Price: $12.00
Stock: In Stock
* These prices are for US customers only. For international orders, please contact sales@aisc.ucla.edu for additional shipping fees.
** NOTE: Prices listed are for individual buyers only. Bookstores or other resellers or representatives from bookstores or other resellers may contact the UCLA American Indian Studies Center Pubications for institutional purchases. Phone: 310-825-7315, eMail: sales@aisc.ucla.edu
Ready to Order?
You will be redirected to our online ordering system.