Bibliography of Language Arts Materials for Native North Americans: Bilingual, English as a Second Language and Native Language Materials, 1975-1976, with Supplemental Entries from 1965–1974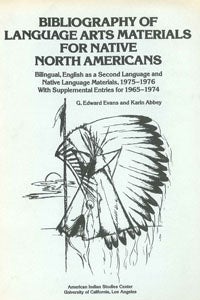 By G. Edward Evans and Karin Abbey, 1979.
This bibliography provides a list of language arts materials for 1975 to 1976 and earlier years to supplement the 1977 bibliography.
120 pp.
$5 paper
10-digit ISBN: 0-935626-14-X
13-digit ISBN: 978-0-935626-14-8
Individual's Price: $5.00
Stock: In Stock
* These prices are for US customers only. For international orders, please contact sales@aisc.ucla.edu for additional shipping fees.
** NOTE: Prices listed are for individual buyers only. Bookstores or other resellers or representatives from bookstores or other resellers may contact the UCLA American Indian Studies Center Pubications for institutional purchases. Phone: 310-825-7315, eMail: sales@aisc.ucla.edu
Ready to Order?
You will be redirected to our online ordering system.