American Indian Culture and Research Journal: Vol. 44, No. 2 (2020)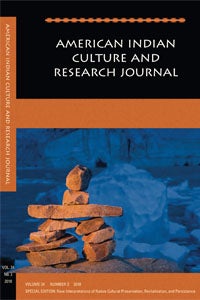 As a public service, UCLA American Indian Studies Center Press is providing the following research information free of charge. Please note that most of the research materials featured here are copyright protected. You may freely use any of the information for your own work, but you must seek permission to reprint any of the documents provided. For information about permissions, go to http://www.books.aisc.ucla.edu/permissions_copies.aspx.
COVID-19 and Indigenous Peoples: Impact of and Response to the Pandemic
Articles
Urban American Indian Caregiving during COVID-19 by Felina M. Cordova-Marks, Terry A. Badger, and Robin B. Harris
Risk and Resilience Factors in Urban American Indian and Alaska Native Youth during the Coronavirus Pandemic by Elizabeth J. D'Amico, Alina I. Palimaru, Daniel L. Dickerson, Lu Dong, Ryan A. Brown, Carrie L. Johnson, David J. Klein, and Wendy M. Troxel
Stress and Coping among American Indian and Alaska Natives in the Age of COVID-19 by Tristesse Burton, Johanna E. Adlam, Megan Murphy-Belcaster, Melva Thompson-Robinson, Carolee Dodge Francis, Daryl Traylor, Eboni Anderson, Kristina Ricker-Boles, and Sutton King
Commentaries
The Battle of Negro Fort: The Rise and Fall of a Fugitive Slave Community. By Matthew J. Clavin. Reviewed by Nakia Parker
Bury My Heart at Chuck E. Cheese's. By Tiffany Midge. Reviewed by Samantha Majhor
The Commissioners of Indian Affairs: The United States Indian Service and the Making of Federal Indian Policy, 1824–2017. By David H. DeJong. Reviewed by Samuel R. Cook
Incarcerated Stories: Indigenous Women Migrants and Violence in the Settler-Capitalist State. By Shannon Speed. Reviewed by Cinthya Martinez
Monumental Mobility: The Memory Work of Massasoit. By Lisa Blee and Jean O'Brien. Reviewed by Josephine Faith Ong
Oyate [documentary film]. By Dan Girmus. Reviewed by Clementine Bordeaux
Picturing Indians: Native Americans in Film, 1941–1960. By Liza Black. Reviewed by Steve Pelletier
Retelling Trickster in Naapi's Language. By Nimachia Howe. Reviewed by Billy J. Stratton
Settler City Limits: Indigenous Resurgence and Colonial Violence in the Urban Prairie West. Edited by Heather Dories, Robert Henry, David Hugill, Tyler McCreary, and Julie Tomiak. Reviewed by Sasha Maria Suarez
Teaching Empire: Native Americans, Filipinos, and US Imperial Education, 1879–1918. By Elisabeth M. Eittreim. Reviewed by Cary C. Collins
Individual's Price: FREE
* These prices are for US customers only. For international orders, please contact sales@aisc.ucla.edu for additional shipping fees.
** NOTE: Prices listed are for individual buyers only. Bookstores or other resellers or representatives from bookstores or other resellers may contact the UCLA American Indian Studies Center Pubications for institutional purchases. Phone: 310-825-7315, eMail: sales@aisc.ucla.edu
Ready to Order?
You will be redirected to our online ordering system.