This January 2023 we are highlighting Native Bruin Maya Rose Dittloff (Mandan, Hidatsa, and Blackfeet) class of 2019.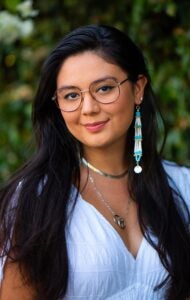 Maya Rose Dittloff (ǔkkayǔ"kwīyinnimǎakii/Many Pipes Woman) is a queer Mandan, Hidatsa, and Blackfeet writer, director, and producer. A graduate of the School of Theater, Film, and Television with a concentration in screenwriting and cinematography in 2019.
Maya was born in Browning, Montana into the Starr School community. She grew up hiking, fishing, and traversing the mountains of her ancestral homelands in what is now named Glacier National Park. Today, Maya is a TV story editor working to increase and advance Indigenous representation in entertainment. In the past, Maya served as a fellow with the LA Skins Fest Feature Writing Lab, Native American Media Alliance Showrunner Program, and the Native American Arts and Culture Foundation LIFT Program. Her other accolades include the 2022 Indigenous List (co-presented by the Black List, Sundance Institute, and Illuminative) as well as the 2022 Tribeca Chanel Women's Filmmaker Program.
Beyond filmmaking pursuits, she has long been involved both locally and nationally in Indigenous Rights activism. Maya is currently a Founding Board Member for Young Entertainment Activists and an ongoing contributor on Indigenous inclusion for Free the Work."
Personal Quote:
"It is my mission in life to tell new stories by, from, and with Indigenous creators in film and television. I work every day to broaden the definition of what has been seen before on screen in terms of Native representation — which has until recently been reliant on stereotypes and entirely divorced from my reality as a Native person. At UCLA I was able to take courses that helped me understand how colonization has shaped the screen, and the representation of Native peoples, and revealed how old tropes haunt my community. As we look to the future, I'm excited for new and diverse stories from Indigenous filmmakers to revolutionize the industry as we all work to "Indigenize" filmmaking. I am so grateful for all the friends I made during my time at UCLA."