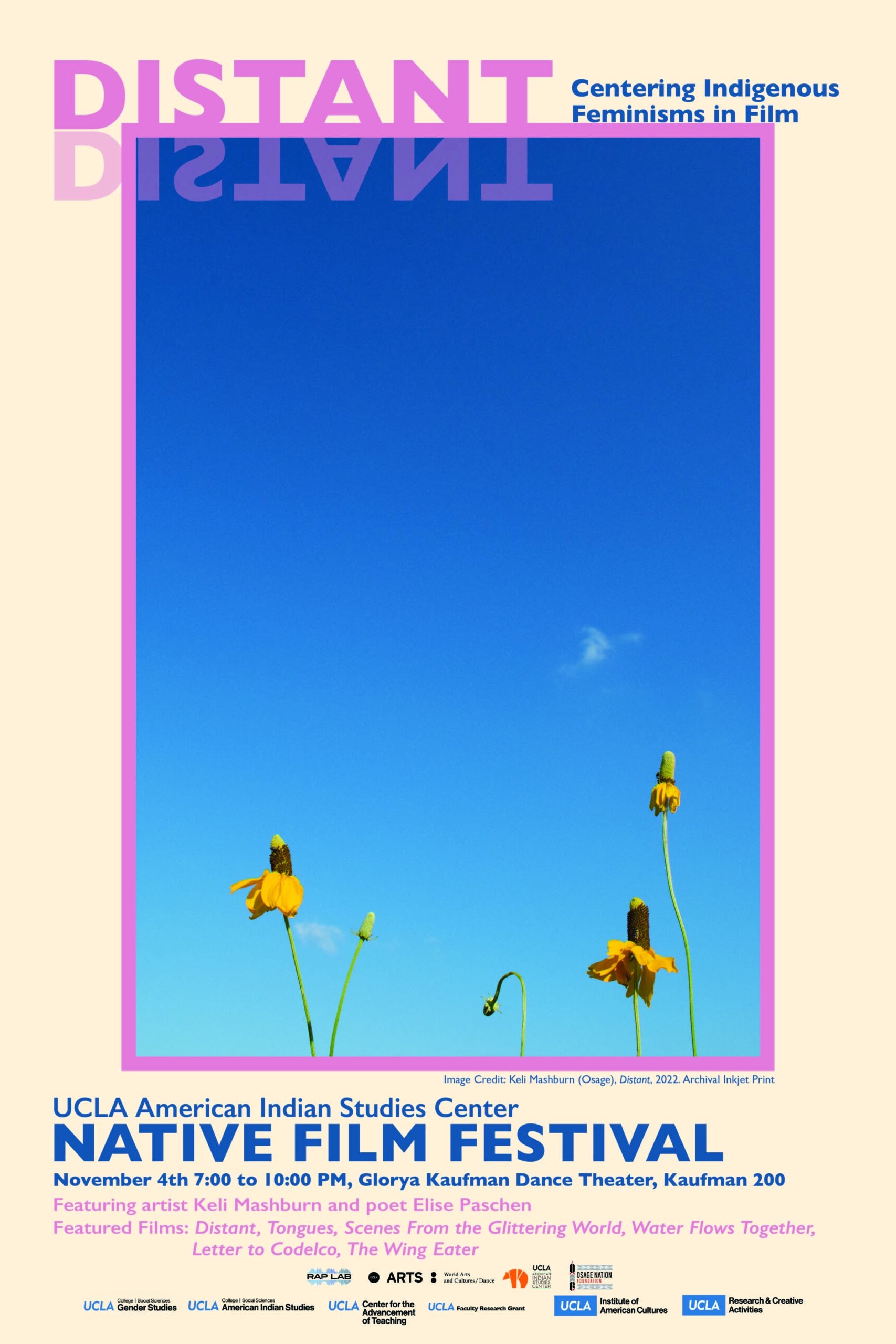 UCLA "DISTANT: Centering Indigenous Feminisms in Film"
RSVP: https://distant_uclaaiscfilmfest.eventbrite.com
A UCLA American Indian Studies Center Native film festival featuring Keli Mashburn and Elise Paschen
Contact: Nancy Marie Mithlo (Fort Sill Chiricahua Apache) Ph.D., Professor, Department of Gender Studies, Department of American Indian Studies, and affiliated faculty, World Arts and Cultures/Dance
Distant is a film collaboration between photographer and visual artist Keli Mashburn (Osage) and School of the Art Institute of Chicago poet and scholar Elise Paschen (Osage). The work was conceived and produced during the height of the COVID-19 pandemic when physical distancing and isolation evoked a "shadow life" existence. This dream-like perspective creates a potent lens from which to consider our collective relationship to land, water, and space – the eternal and timeless features that offer rare moments of reflection in our consumer societies. Keli Mashburn states, "I hope our piece encourages reflection, and inspires unity as we move forward into an uncertain future together."
Mashburn, who was born and raised on the Osage Indian Reservation in northeastern Oklahoma, is known for her work in black and white landscape photography and has exhibited at the Venice Biennale. Paschen, (Ph.D. Oxford University) is an esteemed poet who served as Executive Director of the Poetry Society of America for over a decade. Distant synthesizes these two artists' unique approaches in a visual poem. This film festival centers land as a primary connective subject with human and other-than-human relatives. DISTANT is an official Native November heritage month event sponsored by the UCLA American Indian Studies Center and is free and open to the public.
The DISTANT initiative at UCLA includes a youth component with Native Youth for Justice LA, UCLA graduate and undergraduate participation, and a Native shorts festival. UCLA sponsors include: the Laboratory for Race & Popular Culture (RAP Lab), Gender Studies, World Arts and Cultures/Dance, American Indian Studies, American Indian Studies Center, Institute of American Cultures, Center for the Advancement of Teaching, Faculty Research Grant, and Office of Research and Creative Activities' Racial and Social Justice Grants Program. The Osage Nation Foundation is also a generous sponsor of the Distant film.
The screening will also include the short films Tongues (2022, Dir: Tanya Tagaq), Water Flows Together (2021, Dirs: Palmer Morse, Taylor Graham, Matt Mikkelsen), Letter to Codelco (2016, Dir: Pedro Pablo Celedón), and The Wing Eater (2011, Dir: Nicole Emmons) along with the feature film Scenes From the Glittering World (2021, Dir: Jared Jakins). The directors of Distant, Keli Mashburn and Elise Paschen will be in attendance for a panel discussion and question and answer session following the screening of their film.