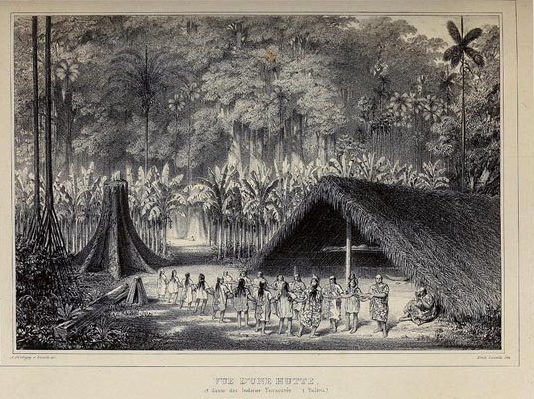 The Forgotten Canopy: Ecology, Ephemeral Architecture, and Imperialism in the Caribbean, South American, and Transatlantic Worlds Conference 1: Ecologies
Date/Time
Friday, November 4, 2022
10:00 am – 4:30 pm
Location
William Andrews Clark Memorial Library
2520 Cimarron Street
–conference organized by Stella Nair (University of California, Los Angeles) and Paul Niell (Florida State University)
This project is made possible through support from the Terra Foundation for American Art, and is co-sponsored by the UCLA American Indian Studies Center and UCLA Latin American Institute.
This conference is free of charge. It will be held in person and livestreamed on the Center's YouTube Channel. To attend the conference in person, you must reserve your space by submitting the booking form at the bottom of this page. Bookings close on Monday, October 31, 2022 at 5:00 p.m. No registration is needed to watch the livestream.
All in-person attendees must adhere to the UCLA COVID-19 Protocol for Organized Events. This protocol will be in effect until further notice and adjusted as needed to respond to evolving public health conditions.
Face masks: It is strongly recommended that all attendees at indoor campus events wear a highly protective mask (i.e. surgical, N95, KN95, or KP94).
Requirements for event entry: All  attendees must present  proof  of  COVID-19  vaccination  or proof  of  negative  COVID-19 test per Los Angeles County Department of Public Health guidelines.
The 2022–23 Core Program hosted by the UCLA Center for 17th– & 18th-Century Studies and William Andrews Clark Memorial Library will convene scholars around the topics of "Ecology," "Ephemeral Architecture," and "Imperialism" in the early modern (16th–19th-century) world. The circum-Caribbean is our starting point; specifically, we use this term to refer to the deep connections between the peoples and places of the Caribbean and South America, along with parts of North America. Due to national politics, language barriers, and scholarly divisions that have their roots in the European colonization of the Americas, the long and complex history of exchange among these regions and peoples have been greatly understudied. In truth, this history of entanglement across water and land stretches back millennia, resulting in a rich and diverse built environment that is deeply tied to ecological change. This dynamic did not end with the invasion of 1492, but rather continued to expand and accelerate when people, plants, and empires came from across the Atlantic. Using ephemeral architecture, in particular the complex and exquisite creation of thatch roofs as the leading thread in these tapestries of exchange, this series of conferences highlight the profound ways in which environmental practices, botanical knowledge, technological development, architectural innovation, and creative expression were deeply tied across these distinct regions and peoples, and shaped by imperial actions. This conference series brings an unusually diverse number of disciplines together in order to unpack these complex dynamics, which challenge how we understand the built environment, the early modern Atlantic World, and the intersections between the local and the global.
Ephemeral architecture has been long overlooked by scholars, with few exceptions, because of its relatively short life span, the lack of extant structures, and most importantly, the need to understand its complex ecological context.  Our first conference, "Ecologies," seeks to address this lacuna by exploring the complex and dynamic ecologies from which ephemeral architecture arises in the Indigenous circum-Caribbean and its transformation with the arrival of Africans and Europeans (with their flora, fauna and technologies). Scholars from a diversity of disciplines and countries are brought together to explore and challenge a variety of perspectives and theoretical approaches to local and cross regional ecologies and histories, from unique plants and cultural knowledge to complex ecosystems and critical human interventions. In the case of thatched roofs, which often drew upon short-lived grasses and had to be remade regularly, even slight ecological changes would have had profound impacts. It is precisely the material condition of this ephemeral architecture that ties its existence to even subtle changes in local ecologies, while also revealing overlooked histories and silenced voices of the Early Modern world.
Speakers
Irvince Nanichi Auguiste, Caribbean Amerindian Development Agency
Michael D. Carrasco, Florida State University
Mónica Domínguez Torres, University of Delaware
Justin Dunnavant, University of California, Los Angeles
Christine Hastorf, University of California, Berkeley
Corinne L. Hofman, Leiden University & Royal Netherlands Institute of Southeast Asian and Caribbean Studies (KITLV)
Eduardo G. Neves, University of São Paulo
Jonah Rowen, Ahmanson-Getty Postdoctoral Fellow
Glenn H. Shepard Jr., Goeldi Museum, Belém do Pará, Brazil
Pamela Villaseñor (Fernandeño Tataviam), Pukúu Cultural Community Services
For the schedule and RSVP: http://www.1718.ucla.edu/events/forgotten-canopy-c1d1/