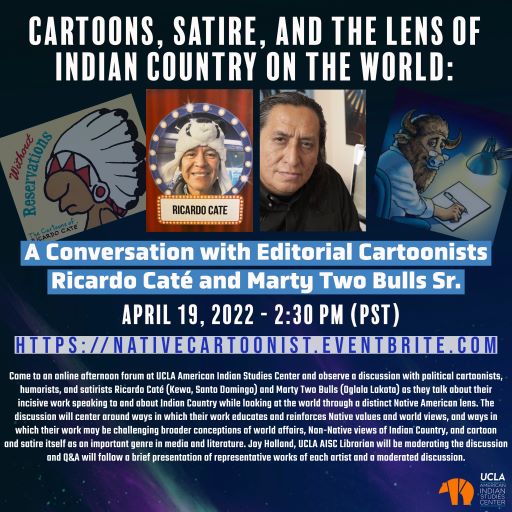 Talk by Marty Two Bulls Sr and Ricardo Caté
Cartoons, Satire, and the Lens of Indian Country on the World:
A Conversation with Editorial Cartoonists Ricardo Caté and Marty Two Bulls Sr.
Moderated by Joy Holland, UCLA American Indian Studies Librarian.
April 19, 2022 2:30-4:00 PM, (via zoom)
REGISTER HERE:
Come to an online afternoon forum at UCLA American Indian Studies Center and observe a discussion with political cartoonists, humorists, and satirists Ricardo Caté (Kewa, Santo Domingo) and Marty Two Bulls (Oglala Lakota) as they talk about their incisive work speaking to and about Indian Country while looking at the world through a distinct Native American lens. The discussion will center around ways in which their work educates and reinforces Native values and world views, and ways in which their work may be challenging broader conceptions of world affairs, Non-Native views of Indian Country, and cartoon and satire itself as an important genre in media and literature. Joy Holland, UCLA AISC Librarian will be moderating the discussion and Q&A will follow a brief presentation of representative works of each artist and a moderated discussion.