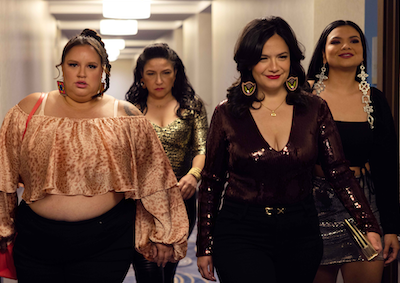 Reservation Dogs Screening
Made possible by the John H. Mitchell Television Programming Endowment. UCLA FIlm & Television Archive and the UCLA American Indian Studies Center present
In-person:
Q&A with producers-writers-directors Sterlin Harjo and Tazbah Rose Chavez.

Admission is free. No advance reservations. Your seat will be assigned to you when you pick up your ticket at the box office. Seats are assigned on a first come, first served basis. The box office opens one hour before the event.
From co-creators and executive producers Sterlin Harjo and Taika Waititi, FX's Reservation Dogs is a landmark half-hour dramedy that follows the exploits of Elora Danan (Devery Jacobs), Bear Smallhill (D'Pharaoh Woon-A-Tai), Willie Jack (Paulina Alexis) and Cheese (Lane Factor), four Indigenous teenagers in rural Oklahoma. The series also features an extended cast of memorable characters including Spirit (Dallas Goldtooth), tribal officer Big (Zahn McClarnon), cannabis-loving Brownie (Gary Farmer), physics-obsessed Bucky (Wes Studi), the enigmatic Deer Lady (Kaniehtiio Horn) and many, many more.
Filmed on location in Oklahoma, Reservation Dogs is a breakthrough in Indigenous representation on television, both in front of and behind the camera. Every writer, director and series regular on the show is Indigenous. This first-of-its-kind creative team tells a story that resonates with them and their lived experiences.
Throughout its first two seasons, Reservation Dogs landed on 180+ critics' year-end best lists, was honored as an AFI Television Program of the Year for two consecutive years and won two Independent Spirit Awards, a Gotham Award and Peabody Award. The show was among seven programs recognized in 2022 by the Television Academy as part of its 15th Television Academy Honors, showcasing exceptional programs and their producers who have leveraged the power of television to fuel social change.
All three seasons of FX's Reservation Dogs are now available on Hulu.
Join us as we pay tribute to FX's Reservation Dogs with a screening of two acclaimed episodes and an in-person conversation with special guests, co-creator-executive producer-showrunner-writer-director Sterlin Harjo and co-executive producer-writer-director Tazbah Rose Chavez.
Notes courtesy of FX.
We are grateful for the support of the Golden Globe Foundation.