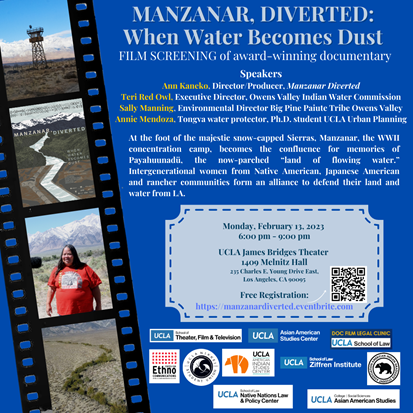 Manzanar Diverted: When Water becomes Dust
Manzanar Diverted: When Water becomes Dust
Women from Native American, Japanese American and rancher communities form an alliance to defend their land and water from Los Angeles
February 13, Monday
UCLA James Bridges Theater – Melnitz Hall 1409
Reception 6:00 pm
Film screening 7:00 pm
Speakers with Q & A 8:00 pm
Speakers:
Ann Kaneko, Director/Producer, UCLA Alumni
Teri Red Owl, Executive Director, Owens Valley Indian Water Commission
Sally Manning, Environmental Director, Big Pine Paiute Tribe of Owens Valley
Annie Mendoza, Tongva water protector, Ph.D. student UCLA Urban Planning
Speaker bios:
Ann Kaneko is known for her personal films that weave her intimate aesthetic with the complex intricacies of political reality. An Emmy Award winner, her poetic feature Manzanar, Diverted: When Water Becomes Dust premiered at the 2021 Big Sky Film Festival and broadcast on PBS POV's 2022 line up. She has screened internationally and been commissioned by the National Endowment for the Arts, the California Endowment and the Skirball Cultural Center.
Teri Red Owl is the Executive Director of the Owens Valley Water Commission
Sally Manning serves as Environmental Director for the Big Pine Paiute Tribe of the Owens Valley. She holds a Ph.D. in plant ecology and has been actively involved in the valley's water issues for more than 30 years.
Annie Mendoza is a Tongva water protector who was born and raised in the San Gabriel Valley and identifies with both the original people and the distinctive working-class communities of the area. Annie is a Ph.D. student at UCLA who focuses on the barriers and opportunities that local Native people face in participating in proposed water projects in Los Angeles. She is co-creator and director of the "Aqueduct Between Us," a radical oral history documentary about water in Los Angeles from an Indigenous perspective.
MANZANAR, DIVERTED: WHEN WATER BECOMES DUST follows intergenerational women from three communities who defend their land, their history and their culture from the insatiable thirst of Los Angeles. Native Americans, Japanese American World War II incarcerees and environmentalists form an alliance to preserve Payahuunadü (Owens Valley), "the land of flowing water." Featuring breathtaking photography and immersive soundscapes, the film recounts more than 150 years of history, showing how this distant valley is inextricably tied to the city of Los Angeles. It reveals the forced removals of the Nüümü (Paiute) and the Newe (Shoshone) who were marched out of the Valley in the 1860s by the U.S. Army, and the Japanese Americans who were brought here from their West Coast homes and incarcerated in a World War II concentration camp. Water lured outsiders in and continues to fuel the greed which has sucked this once lush place dry.
Sponsored by
UCLA Asian American Studies Center
UCLA American Indian Studies Center
UCLA School of Film, Theater, Television
UCLA Center for Ethnocommunications
UCLA Law School Documentary Film Legal Clinic
UCLA Ziffren Institute for Entertainment, Media, Technology & Sports Law
UCLA Tribal Legal Development Clinic
UCLA Department of Asian American Studies
UCLA Nikkei Student Union
UCLA American Indian Graduate Students Association