Grandchildren of the Buffalo Soldiers and Other Untold Stories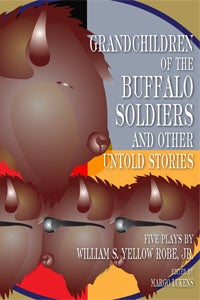 Five Plays by William S. Yellow Robe Jr., 2009
This collection of five plays portrays the complex issues that arise when mixed-blood American Indian characters come up against traditional Native beliefs. It shows how legislated and internalized racism has ravaged human relationships and created divisive struggles within Native American families and communities. The title play,Grandchildren of the Buffalo Soldiers, examines the lingering effects of colonial exploitation of tensions between African American and Native American people in the nineteenth century. All of Yellow Robe`s plays meditate on "the returning" to home, to community, and how the matter of belonging is a privilege.
Oskar Eustis, the artistic director of the Public Theater, writes: "Bill Yellow Robe`s voice is funny, honest, and searing. He tells painful truths that are designed to heal, and healing truths that are hard to hear. He writes from an utterly specific Native world, one we all need to know, but he uncovers human truths that are universal and profound. He is one of our necessary writers. We would be much poorer without him."
375 pp.
$18 paper
10-digit ISBN: 0-935626-59-X
13-digit ISBN: 978-0-935626-59-9
Table of Contents (PDF)
Individual's Price: $18.00
Stock: In Stock
* These prices are for US customers only. For international orders, please contact sales@aisc.ucla.edu for additional shipping fees.
** NOTE: Prices listed are for individual buyers only. Bookstores or other resellers or representatives from bookstores or other resellers may contact the UCLA American Indian Studies Center Pubications for institutional purchases. Phone: 310-825-7315, eMail: sales@aisc.ucla.edu
Ready to Order?
You will be redirected to our online ordering system.